Jon's Extra Mile for Second Harvest Food Bank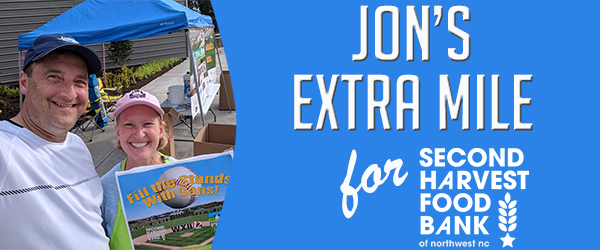 Sending in the Pinch Hitter
Thanks to everyone who has been participating in our 2019 Summer Food Drive, we've raised more than 415,000 meals for Second Harvest Food Bank this summer, and we're on track to pass the total we raised last year.
Every dollar raised for the food bank can be used to provide at least seven meals to kids in need. How does that work? Through their partnerships with grocery retailers and the USDA, the food bank is able to source nutritious food, including fresh meat, dairy, fruits and vegetables. The food bank's culinary program uses some of the ingredients to prepare hot meals, and they are distributed along with fresh food to local pantries, summer feeding locations and soup kitchens across 18 counties.
Our goal for 2019 is to raise half a million meals, and we're looking for that last boost to get us to the goal by July 31.
It's time for Jon to step in! We're offering him up for auction to help us reach our goal. The winner of the auction will have Jon all to yourself at your corporate office or chosen property for one day! Jon has maintenance skills, salesmanship skills, and a wealth of industry knowledge and experience, and we're happy to share him with you for a day.
The Details
You can place your bid by donating to the team "Jon Lowder" on our donation page (click the button below). If you haven't used the page before, just click "Donate Now," then "Search for a Participant or Team," then begin typing "Jon Lowder."
The MINIMUM bid is a donation of $500, which equals 3,500 meals!
The donation must be made between today and July 31
ALL DONATIONS will go to the food bank and are NONREFUNDABLE – regardless of whether or not you win the auction
Whichever company has made the highest donation by 11:59pm on July 31 will win the grand prize: Jon Lowder for a day!
The company with the second-highest donation will win 2nd prize: Jon Lowder for half a day (half the day, all the awesome)
Once the auction is over, Jon will follow up to arrange a day to spend on your property, and PTAA will be sure it is well covered in our social media and other publicity!
Questions? Contact Jon with any questions you have before you donate.