Jon's Reading List - Week of July 16
This is a place in which I read and share:
Apartment Industry
No Free Rent: Concessions Disappear (Greg Willett, Chief Economist at RealPage posted on LinkedIn July 15, 2021)
With today's U.S. apartment occupancy of 96.5% aligning with the historical all-time high, price discounts offered to entice renters are few and far between.
RealPage, Inc. stats show rent concessions offered on 10.7% of the nation's available stock.
There's virtually no discounting in Riverside/San Bernardino, as giveaways register for just 0.4% of the available units. That share is only about 2% in West Palm Beach and Detroit.
At the other extreme, 35.5% of San Jose's available apartments feature discounted rents, and the figure is at roughly 28% in both San Francisco and New York.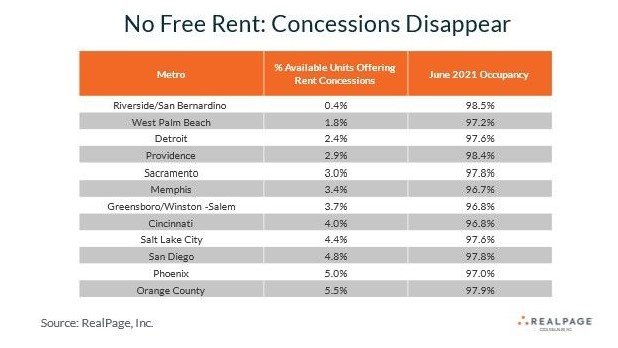 D.C. sets timeline for evictions to resume, prompting outcry from landlords and tenants (Washington Post, July 13, 2021)
The legislation establishes a plan for evictions to resume in stages. Landlords will be allowed to file right away to evict tenants who have caused significant damage to their buildings. A much larger number of evictions, those filed against any tenants who have fallen more than $600 behind on rent, can be filed in court beginning Oct. 12. But the law imposes a new requirement that landlords apply for Stay DC — the massive rent relief program funded by $350 million in federal grants — on behalf of tenants at least 60 days before moving to evict them.
Just a sliver of assistance has reached renters, with eviction ban about to expire (CNBC, July 13, 2021)
The first round of rental aid was authorized by Congress in December, and by February the U.S. Department of the Treasury had disbursed the full $25 billion to states. In March, Congress allocated another $21 billion in aid for renters and their landlords, and states have so far received around $8.6 billion of that money.
Despite those historic funding levels, however, government data shows that just around $1.5 billion had reached renters by the start of June. And only around 176,000 households had been assisted.
Real Estate
U.S. housing market landscape may be starting to shift as newly listed homes surpass 2019 levels (Triad Business Journal, July 13, 2021)
Recent data from Seattle-based Redfin Corp. found the number of homes newly listed for sale surpassed 2019 levels during the four weeks that ended July 4. That's the the first time this year that's happened.
Homebuying demand has also recently — somewhat — tapered off, according to pending sales data, Redfin's Homebuyer Demand Index and Mortgage Bankers Association's survey of number of mortgage applications.
Lumber Prices Are Way Down - But Don't Expect New Houses to Cost Less (Wall Street Journal, July 14, 2021)
The decline is benefiting builders and do-it-yourselfers and helping to allay fears of runaway inflation hamstringing the economic recovery. Still, buyers of new homes should not expect discounts.
Home builders say they expect to collect higher profit margins rather than drop asking prices. That is typical following periods of rising commodities costs, when the broad economic growth that normally accompanies higher raw-materials prices enables companies to pass along more expenses.
Housing hot spot: 4,237 new residential units expected by 2025 in heart of Triad (Triad Business Journal, July 9, 2021)
Looking forward,  the town's Growth and Traffic Report predicts 4,618 new housing units across all categories will be built by 2025, growing Kernersville's population to 30,156. The number of planned homes in Caleb's Creek and Welden alone, at build-out, will account for 5,100 single-family detached, single-family attached and apartment homes.
Economy
U.S. Jobless Claims, Benefits Payments Fall to Pandemic Lows (Wall Street Journal, July 15, 2021)
Jobless claims declined to 360,000 in the week ended July 10 from a seasonally adjusted 386,000 a week earlier. Last week's applications count marked the lowest level for claims since March 2020, the month the Covid-19 pandemic hit the U.S. economy.
The big labor shrinkage in North Carolina (Triad Business Journal, July 12, 2021)
Metropolitan areas that have experienced the worst declines compared to February 2020,  including Goldsboro (-6 percent), Asheville (-6.9 percent), and Greensboro-High Point (-5.2 percent). By comparison, Raleigh is only 2.2 percent below pre-Covid employment levels. Winston-Salem and Burlington are in the middle of the pack at -3.7% and -3.9 percent respectively.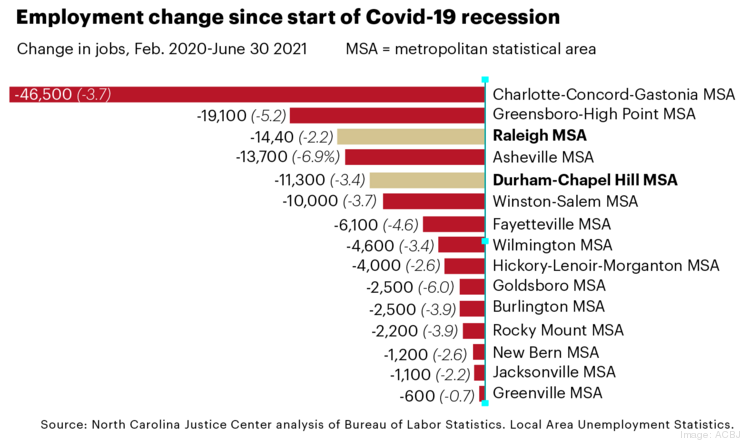 Job Openings Are at Record Highs. Why Aren't Unemployed Americans Filling Them? (Wall Street Journal, July 9, 2021)
Several factors are behind the development: Many workers moved during the pandemic and aren't where jobs are available; many have changed their preferences, for instance pursuing remote work, having discovered the benefits of life with no commute; the economy itself shifted, leading to jobs in industries such as warehousing that aren't in places where workers live or suit the skills they have; extended unemployment benefits and relief checks, meantime, are giving workers time to be choosy in their search for the next job.