PTAA has been supporting Second Harvest Food Bank of NWNC since 2003 with a variety of food drives and other projects, and during that time we got to know Clyde Fitzgerald, who was their CEO until retiring earlier this year, very well. Clyde was passionate about feeding the hungry and helping those in our community who had the least, and his energy was infectious. Even though PTAA was never the biggest supporter of Second Harvest in terms of food or money collected, Clyde always made sure we understood how important our efforts were and the difference they made to the community.
We were saddened to learn that Clyde passed away on November 18 and we wanted to share the letter that Second Harvest sent with the news because it truly tells you what kind of person he was. He will be missed by all of us who knew and worked with him.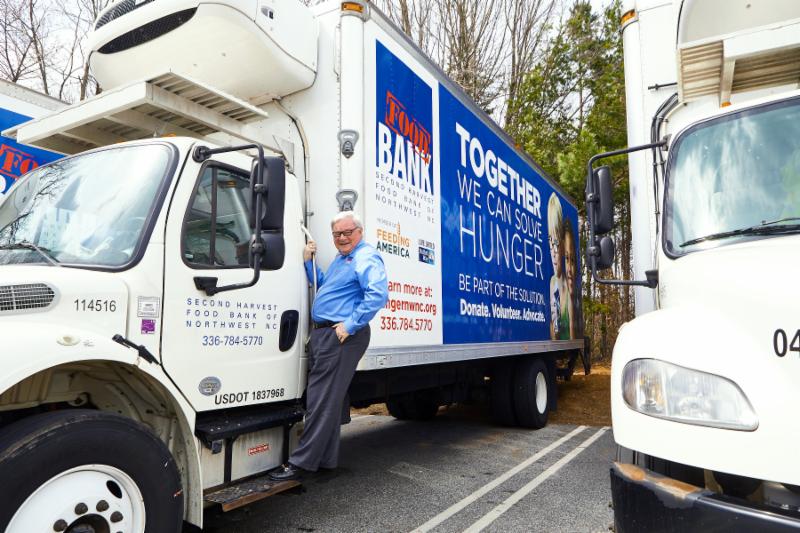 Dear Friends,
It is with deep sadness that we share that Clyde Fitzgerald, Jr., our former CEO, beloved friend, and passionate advocate for the eradication of hunger in our time, passed away this morning, November 18, 2018.
Our Second Harvest Food Bank family, and all who knew him, will miss Clyde more than words can adequately express. We are committed to honoring his legacy through our continuing work to "provide food and hope to those who have too little of both' (one of our favorite, always heartfelt, quotes from Clyde).
Clyde was adamant that "hunger is a human tragedy that exists only because we as a community allow it to exist." Every day, we will strive to achieve his vision, knowing that hunger is a problem that can be solved…working together in our communities.
We will remember these words he shared often and lived by each and every day: "It's always the right time to help somebody in need."
In true Clyde fashion, he fought a valiant fight surrounded by his loving wife Carol, their devoted children, his dear friend and predecessor at the helm of Second Harvest Nan Griswold… and lifted in love and respect by his Food Bank family and so, so many special friends.
Today, we all mourn the loss of Clyde in our lives. In the days ahead, many stories of Clyde's impact in our lives and our community will be remembered and shared. We invite you to share your stories with us, so that we may all take comfort in them through the loss of our friend.
With care,
Eric Aft, CEO of Second Harvest Food Bank
and the entire Food Bank family