Update: Recording of AANC Webinar to Address Questions Related to CDC Rule, NC Phase 2.5
Update -- You can see a recording of the webinar here. In addition here are links to documents they referred to during the webinar:
Did you see the announcement of the CDC's proposed eviction prohibition through December 31, 2020 and think, "WTH!" Well, you're not alone and our friends at the Apartment Association of North Carolina have put together a free webinar to help answer questions related to that and Governor Cooper's new "Phase 2.5" order. Here are the details: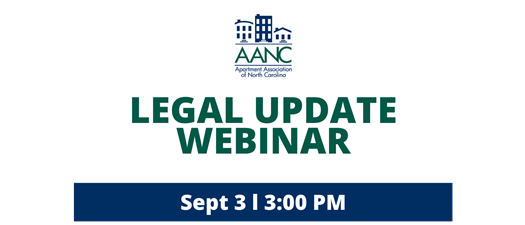 When: September 3, 2020 at 3 p.m. (EDT)
Register here: https://www.aanconline.org/events/aanc-legal-update-webinar-
Description: Join AANC's Legal Update webinar with Chris Loebsack and Norm Praet as they: review Governor Cooper's latest Safer-at-Home Order; address the CDC's proposed Rule that would create a national "Eviction Prohibition" program for eligible tenants starting on Friday; and discuss the impact these issues will have on the Multifamily Industry.