Food Drive

---
DRIVE TOTAL:   $74,427.75   |   528,479 meals

In the wake of COVID-19, children still need your help. Demand is unprecedented at food banks as many families seek help for the first time.

When you support our virtual food drive for Second Harvest Food Bank, every dollar you give provides 7 meals for someone in need right here in our community!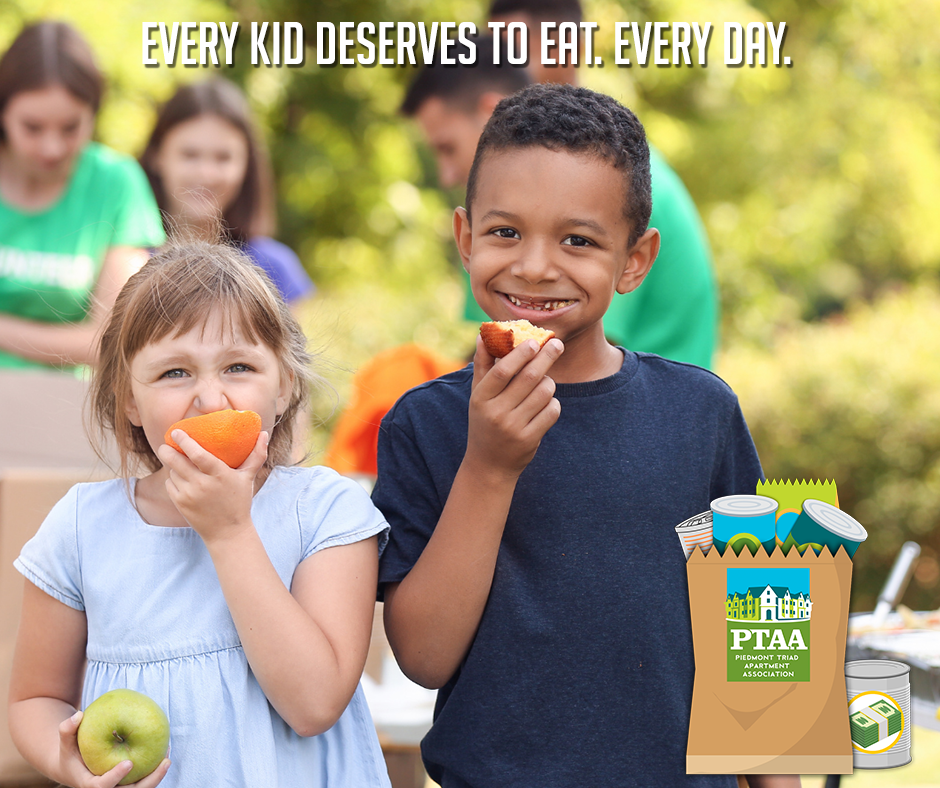 For more than 17 years, PTAA has held a summer food drive in support of Second Harvest Food Bank's fight against childhood hunger in the summer months. Each year, our member apartment communities and supplier partners raise meals to provide to children in the Triad who may not have enough to eat when school is out and they don't have regular access to breakfast and lunch at school. 
We raise meals by providing collection boxes for member communities and supplier partners to collect onsite, and now, more than ever, we encourage financial contributions through this online giving site.
In the multifamily industry we see firsthand the effect that hardship brought on by the pandemic continues to have on local families.
As we strive to do the most good we can, PTAA once again encourages all of our members to join together in one single, virtual effort to raise as many meals as possible to help Second Harvest Food Bank's vital services, this summer and throughout the year. Our goal is to raise at least 500,000 meals by the end of the year.
Every dollar raised on this page goes directly to Second Harvest Food Bank, who will use each dollar to provide seven meals through food boxes and backpacks as well as prepared community meals for families, children and seniors, and a multitude of other programs designed to combat food insecurity and meet the nutritional needs of Triad families. We hope you'll join our efforts by making a tax deductible donation to this important cause. 
Our sincerest thanks to everyone in the multifamily industry and in the community who have contributed to this drive. Although we have reached our goal, of course we will keep going! Your collected non-perishable food items and donations at the link above are needed, welcome, and appreciated!
Thanks to the 2021 Food Drive Sponsors!
Follow Our Progress!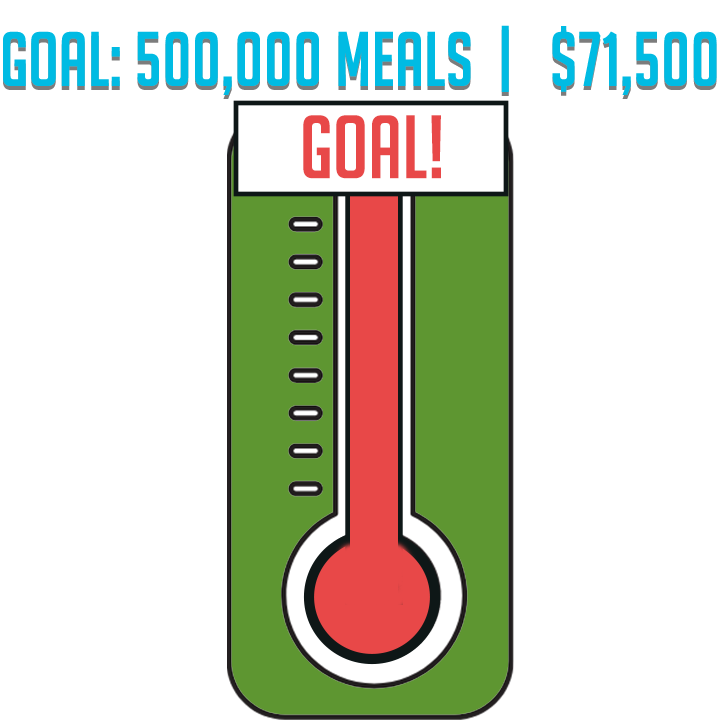 ---
Faq:
Q: Why is the focus on financial donations?
A: While one can of food can provide a healthy meal, Second Harvest Food Bank is able to source enough nutritious food to provide SEVEN healthy meals with just ONE DOLLAR. Financial donations are reaching more familes and reaching them faster when we donate right now.
Q: Can we still collect food?
A: We place much of our focus on raising funds, but our members are certainly encouraging collecting nonperishable food items. To join this effort, please register and we'll reach out. Collection boxes for registered participants will be available for pickup only at the PTAA office. When your box is full, send us an email with your total number of items collected and contact the food bank (336.584.5770) to arrange box pickup. 
Q: What about Fill the Stands with Cans?
A: Fill the Stands With Cans is back! We have events planned with the Greensboro Grasshoppers and Winston-Salem Dash late this summer. Stay tuned for details and please register if you'd like to volunteer.

Q: What about the competition?
A: Our communities and their residents are still recovering from hardships due to COVID, and Second Harvest is working harder than ever and stretching resources to meet needs in the community, so we will not track separate donation totals or determine an Owners Cup winner this year. We will happily celebrate individual successes you share with us on social media, and the total of all funds raised by all PTAA members will be visible on this website. The Clyde Fitzgerald Owner's Trophy will return in 2022.

Q: What is a #FoodBankHero?
A: You! When you donate any amount of food or funds, you're a food bank hero! We also need some members to participate at a higher level. We need sponsors and volunteers for the baseball games. We also need Social Media Ambassadors, who will commit to being active on our social media posts and share our message with their friends and contacts. Finally, we need fun and creative types to organize mini fund drives to engage our members - think online trivia, pool parties, cookouts. As we emerge from social distancing, the posssibilities grow!  Please register if you plan to hold your own fundraiser so we can support you and follow your efforts.