19th Annual Food Drive
When you support our food drive for Second Harvest Food Bank, every dollar you give provides 7 meals for someone in need right here in our community!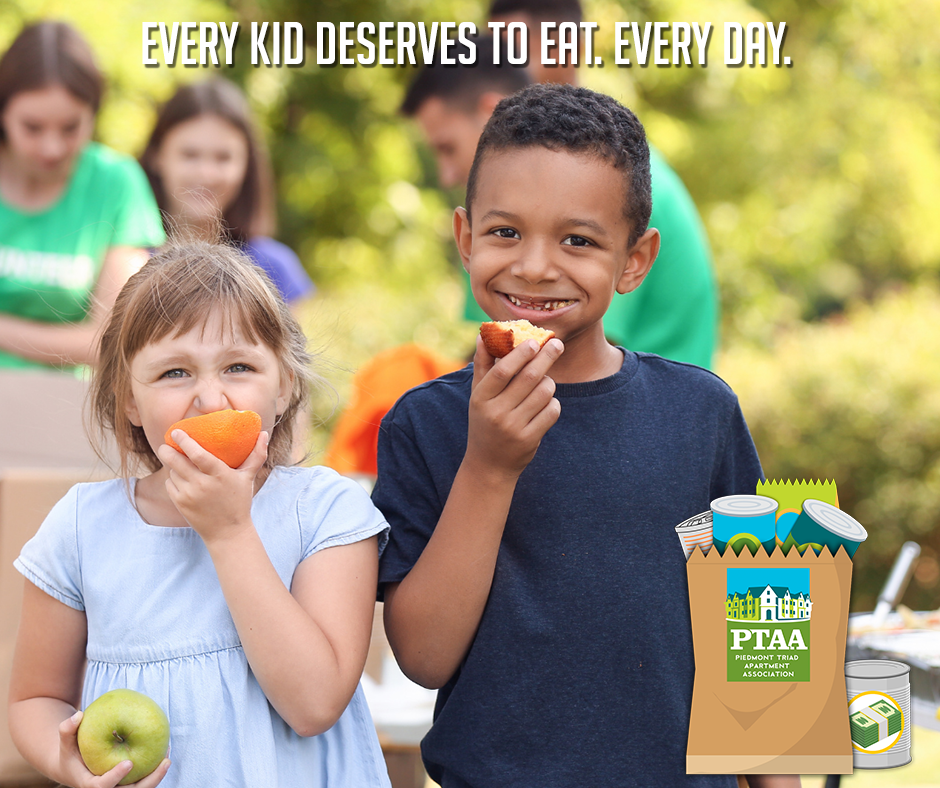 For 19 years, PTAA has held a summer food drive in support of Second Harvest Food Bank's fight against childhood hunger in the summer months. Each year, our member apartment communities and supplier partners raise meals to provide to children in the Triad who may not have enough to eat when school is out and they don't have regular access to breakfast and lunch at school.
We raise meals by providing collection boxes for member communities and supplier partners to collect onsite, and now, more than ever, we encourage financial contributions through this online giving site.
In the multifamily industry we see firsthand the effect that hardship brought on by the pandemic continues to have on local families. Supply chain issues continue to pose challenges for our food bank and others across the nation. That said, strong community support continues to allow Second Harvest to work well in advance to obtain food resources for our community.
As we strive to do the most good we can, PTAA once again encourages all of our members to join together to raise as many meals as possible to help Second Harvest Food Bank's vital services, this summer and throughout the year. Our members have a friendly competition to see who can raise the most meals to fight hunger in the Triad. Our goal is to raise at least 500,000 meals by the end of September.
Every dollar raised on this page goes directly to Second Harvest Food Bank, who will use each dollar to provide seven meals through food boxes and backpacks as well as prepared community meals for families, children and seniors, and a multitude of other programs designed to combat food insecurity and meet the nutritional needs of Triad families. We hope you'll join our efforts by making a tax deductible donation to this important cause.
Volunteer for the Greensboro Dash Game on Friday, July 28th
Volunteer for the Winston-Salem Dash Game on Saturday, August 5th