Food Drive
---
2020 Total: $62,101.30 | 434,709 meals

Stay tuned for information about the 2021 Virtual Food Drive!
In the wake of COVID-19, children still need your help. Demand is up 70% at food banks as many families seek help for the first time.

When you support our virtual food drive for Second Harvest Food Bank, every dollar you give provides 7 meals for someone in need right here in our community!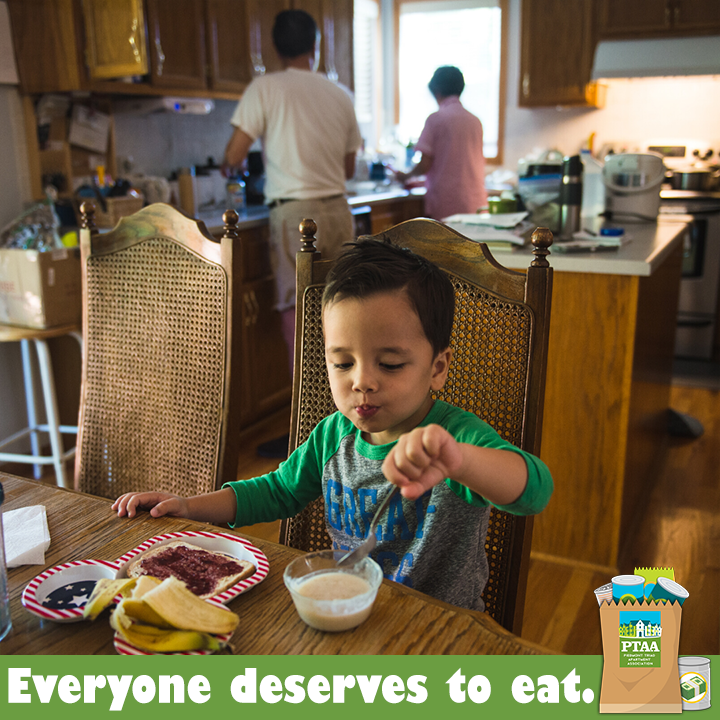 For more than 16 years, Piedmont Triad Apartment Association has held a summer food drive in support of Second Harvest Food Bank's fight against childhood hunger in the summer months. Each year, our member apartment communities have a friendly competition to see who can raise the most meals to provide to children in the Triad who may not have enough to eat when school is out and they don't have regular access to breakfast and lunch at school. Last summer, PTAA members met a milestone by raising more than half a million meals.
The recent outbreak of COVID-19 has turned our world upside down – communities are hurting as individuals face job losses, families are staying home to stay safe, and schools have closed. Every person in the Piedmont Triad has been touched with the effects of this crisis, and now more than ever, PTAA wants our friends and neighbors to know that we're in this together.
What we call "summer hunger" is what happens any time children and families are faced with food insecurity without regular safe and nutritious meals provided at school. Summer hunger is now. And even though we can't be together, all of our communities can join together in one single, virtual effort to raise as many meals as possible to help Second Harvest Food Bank's vital services in the midst of COVID-19.
Every dollar raised on this page goes directly to Second Harvest Food Bank, who will use each dollar to provide seven meals through food boxes and backpacks for families, children and seniors, as well as prepared community meals served to children and displaced hospitality workers.
Thanks to the 2020 Food Drive Sponsors!
| | | |
| --- | --- | --- |
| | | |
| | | |
| | | |
| | | |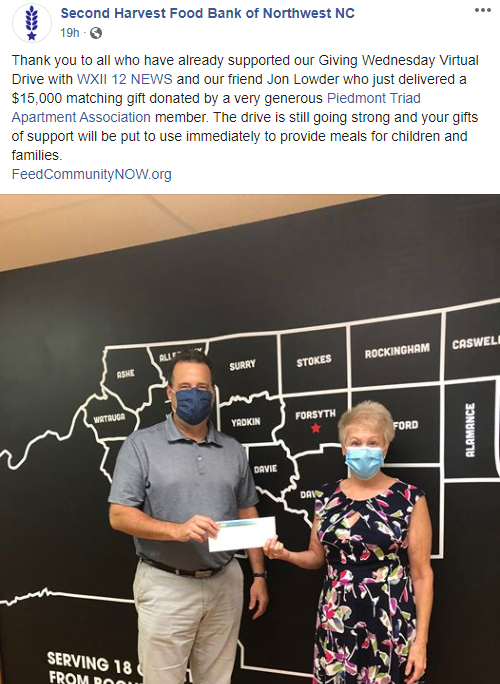 Thanks to an anonymous friend of PTAA, we were able to make a big contribution to Second Harvest, which was used to provide a match incentive for a one-day drive with WXII on August 12. They were able to raise more than $43,200!
---
Faq:
Q: Why is the focus on financial donations?
A: While one can of food can provide a healthy meal, Second Harvest Food Bank is able to source enough nutritious food to provide SEVEN healthy meals with just ONE DOLLAR. Financial donations are reaching more familes and reaching them faster when we donate right now.
Q: Can we still collect food?
A: With social distancing in place PTAA is not arranging for food collection boxes at this time. If you'd like to collect food on site please contact the food bank (336.584.5770) to arrange box delivery.
Q: What about Fill the Stands with Cans?
A: Unfortunately all minor league games for this year have been cancelled. Look for the food drive to be part of other PTAA activities throughout 2020.

Q: What about the competition?
A: For 2020 we've removed competition and deadlines from the mix. We have a single page to collect donations and we encourage management companies, supplier partners, and community members alike to "Give What You Can, When You Can."
We'll collect all year, even though you'll see most of the promotion this spring & summer. We'll keep track of how much our combined efforts raise, but we won't track progress of individual companies. We encourage our members who are able to get creative and have their own fundraising campaigns, as in previous years. We'll promote these efforts to the public on social media and through traditional media outlets. Keep us posted on your successes so we can add them to PTAA's total. The Clyde Fitzgerald Owner's Trophy will return in 2021.
**Be aware that not every donation on our site will be shown on the "goal thermometer." Donations made for food boxes are accounted for differently by the food bank than other financial donations. Know that we have our own tracking at PTAA and we'll keep you updated frequently on this page. Questions? Contact stephanie@piedmonttaa.org