Certificate for Apartment Maintenance Technician
Contact staff for cAMT schedule at the PTAA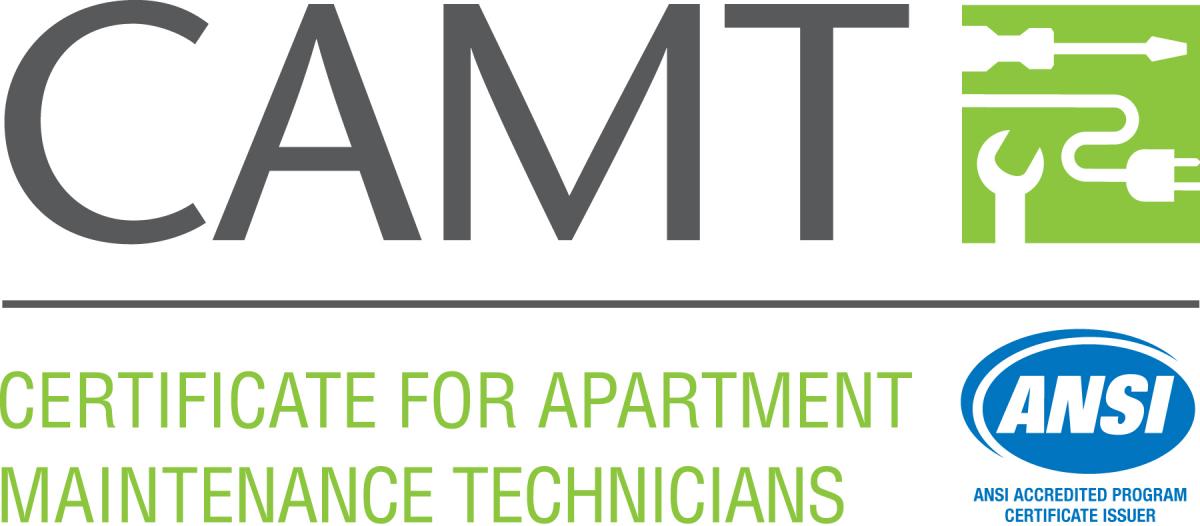 This program is designed both as an introduction for new maintenance professionals and as a refresher for the veteran employee, to give these professionals the knowledge and tools necessary to run an effective maintenance program. Maintenance expenses are the single largest controllable element in any operating budget. The CAMT program is accredited by the American National Standards Institute (ANSI), a private non-profit organization that administers and coordinates the U.S. voluntary standardization and conformity assessment system.
Certificate for Apartment Maintenance Technicians (CAMT) includes:The non-technical Soft Skills course consists of online learning, including practice scenarios. Five technical courses consist of hands-on classroom training followed by online practice scenarios.
Technical Courses
Electrical Maintenance and Repair
Plumbing Maintenance and Repair
Heating, Ventilation and Air Conditioning (HVAC) Maintenance and Repair
Appliance Maintenance and Repair
Interior and Exterior Maintenance and Repair
---
Non-Technical Course Modules
Welcome to the Industry
Customer Service
Teamwork
Time & Project Management
Money Matters
Documentation & Paperwork
Maintenance & Emergencies
Safety First
Compliance
Enhanced with FranklinCovey Insights on Demand video-based online courses
Programs may be taken as standalone seminars or in full to earn the industry designation.
---
CAMT Requirements
Certificate candidates must complete the following within 6 months of declaring candidacy for CAMT to receive the Certificate for Apartment Maintenance Technicians credential:
one year of apartment or rental housing maintenance experience; and
five courses and online content listed above (which totals 80 hours)
For more information review the CAMT Skill Standards.
---
About the CAMT Exam
The CAMT Exam is 100 questions timed for two hours and thirty minutes.
Learn more about the CAMT exam.