2020 Apartment Housing Outlook
The National Apartment Association's 2020 Apartment Housing Outlook calls for a slight increase in vacancy rates and slow down in rent growth for 2020, but in general they still see the industry doing well over the next couple of years. Below is an excerpt from the full article which you can read here:
Private sector apartment data providers are in agreement with slipping occupancy rates in 2020 and 2021 and rent growth progressively slowing over the next two years. But occupancy rates dropping from near-all-time highs certainly does not portend doom. Rent growth below two percent, when inflation is forecast between 2 to 2.5 percent is noteworthy, however. In addition to focusing on alternative sources of revenues, owners and operators will need to bump up efforts to reduce operating expenses, a challenging prospect amid the current environment of mounting property taxes and rising wages.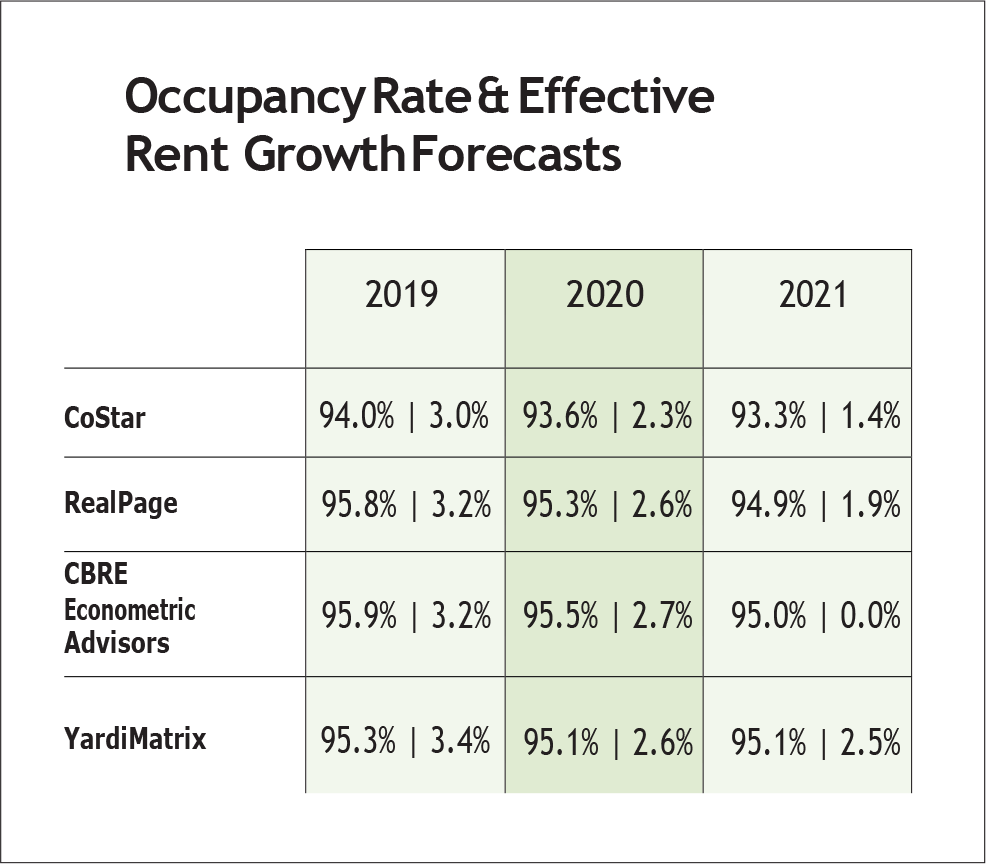 Demographic, economic and societal factors continue to favor the apartment industry, even with expectations of decelerating economic growth. The trend of delaying marriage, children and homeownership shows no signs of easing. The NAR reports an all-time high in 2019 for the age of first-time home buyers, 33 years old, up from 29 when the data series began in 1981. According to Freddie Mac's survey of renters and homeowners released in mid-2019, 39 percent of renters think it is not very to not at all likely that they will ever own a home, the highest percentage since Freddie started conducting the survey in 2015. Of renters who say they can afford to buy now, 24 percent feel that renting is a good choice right now, also a survey high. Additionally, 59 percent of renters plan to rent their next residence and an astounding 80 percent of apartment renters say renting is a better fit for their current lifestyle. 
With overall wage growth still lagging in strength compared to other labor market indicators, affordability will remain a challenge for all types of housing in 2020. Adverse policies stemming from initiatives to fix the deep-seeded and complex causes of housing affordability will likely be the biggest risk to the industry in 2020 and beyond.