What does 2021 hold in store for the apartment industry? Even in normal times the future can be hard to predict, but when you're in the middle of a pandemic the view into the future is even hazier. That doesn't mean we shouldn't try, and Paula Munger, NAA's AVP, Industry Research & Analysis, provides a lot of valuable data and analysis in her 2021 Apartment Housing Outlook. Among the more interesting points:
Forecasts for apartment fundamentals for predominantly institutional-grade properties indicate a bottoming of the market in late 2020 and into 2021. On an annual basis, rent growth is positive albeit muted while occupancy rates post slight declines before ticking up in 2022. New supply forecasts range from 300,000 – 400,000 units in 2021 as construction delays because of the pandemic and downturn cause timelines to get pushed into next year. Apartment owners and operators are preparing for a challenging 2021, budgeting for declining revenues and increasing costs, both on the operating side and for capital expenditures.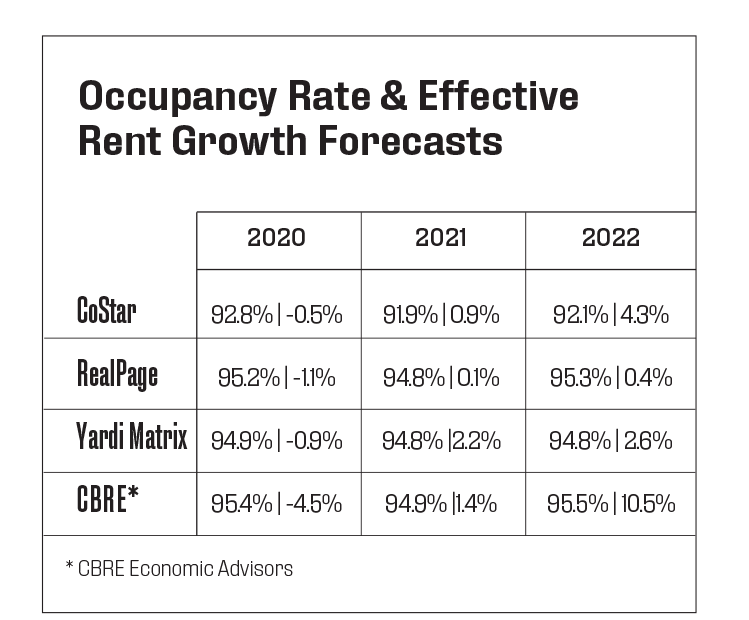 Although overall market fundamentals are expected to be weak in 2021, there are numerous tailwinds for multifamily demand on the other side of the pandemic. The single-family market was far more under-supplied than the multifamily market prior to the pandemic. Increasing costs of materials, particularly lumber, and the feverish pace of demand will put further downward pressures on single-family supply, which are already at historic lows by some measures. The growing gap between home prices and rent growth means renting will be a better option in many areas, although low mortgage rates will continue to be a draw to homeownership. With some 26.6 million 18 to 29-year-olds living with their parents, according to the Pew Research Center, pent-up demand can be expected once this cohort enters the job market and/or attains more solid financial footing.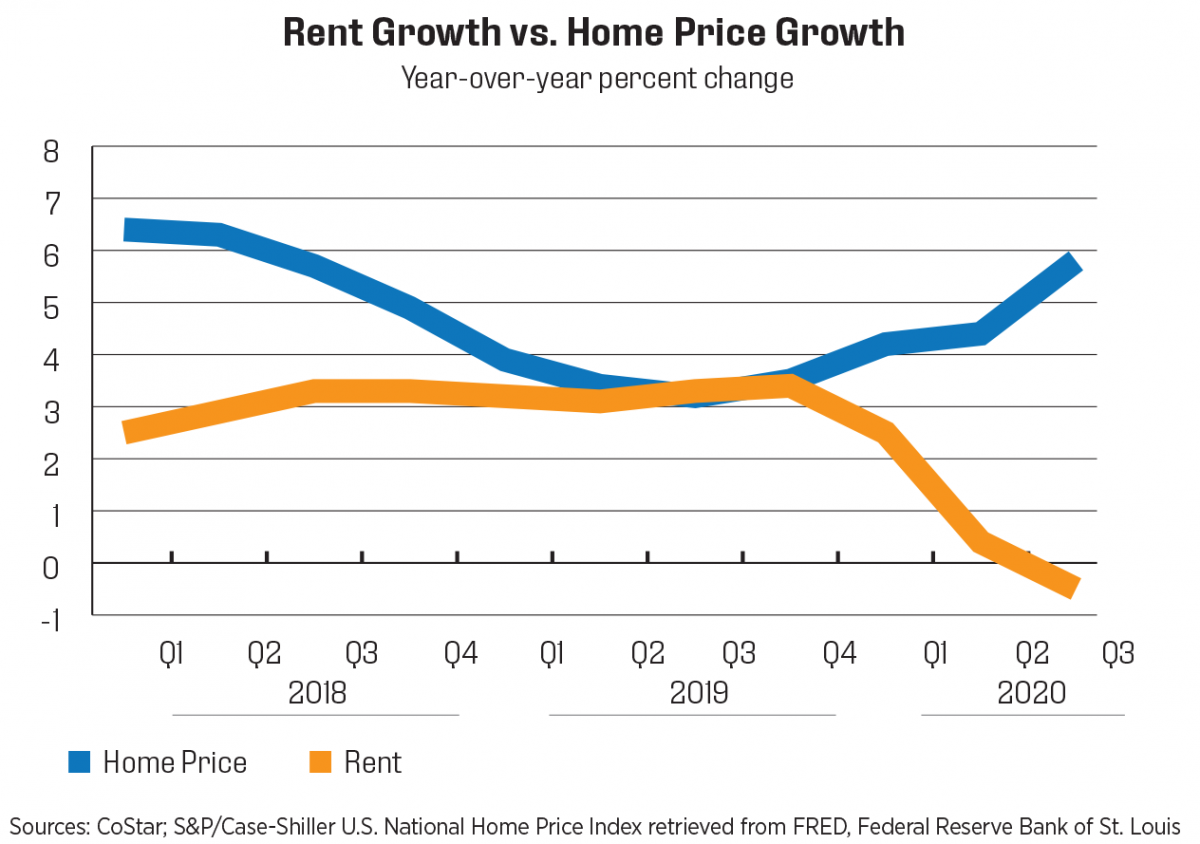 Finally, friendlier immigration policies from the next administration could be an additional source of demand, as immigrants are a strong renter cohort. According to the Joint Center for Housing Studies, 83% of immigrant households who have been in the country for fewer than 5 years were renters and that figure stayed elevated at 70% for those who immigrated 5-10 years earlier and 57% for those in the country for 10-20 years.