Apartment Rent Growth Strong in Triad, Small Cities While Big Cities See Declines
Date posted
November 12, 2020
According to the latest Yardi Matrix report multifamily rents are down significantly in large markets like New York and San Francisco, but are up in secondary and tertiary markets. The highlight for the Piedmont Triad is that year-over-year rent growth in October was among the highest in the country, with a 5.5% overall rent increase - 4.4% in the lifestyle sector, 6.4% in the renter-by-necessity sector. Here's an excerpt from the report:
Multifamily rents were flat for the third consecutive month in October, but the national numbers appear misleading, as the sector is experiencing an ever-increasing divergence between outperforming and underperforming markets. On a year-over-year basis, rents fell 0.6% nationwide.
Secondary and tertiary markets are performing the best, as high costs and limited community amenities drive outmigration from gateway markets. The Inland Empire (6.0%), Sacramento (5.0%), Las Vegas (3.9%) and Phoenix (3.8%) lead our top 30 markets, with each market benefiting from migration out of the Bay Area and Los Angeles.
Not surprisingly, New York (-10.0%), San Francisco (-8.2%), Washington, D.C. (-3.7%), Boston (-3.1%), Chicago (-2.9%) and Los Angeles (-2.8%) all fell at or near the bottom of our rankings.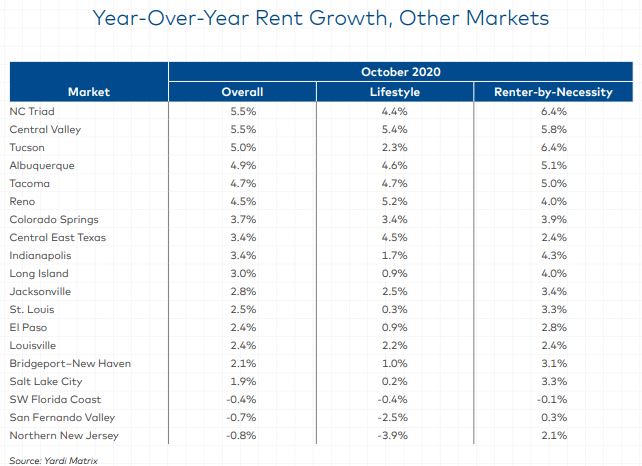 The authors of the report point out that secondary and tertiary markets are benefiting from a pandemic-induced, work-from-anywhere environment that has prompted people to migrate to less expensive markets and they point out the following consideration for the future:
Primary markets will not suffer forever, but their recovery will depend on how much newly relocated individuals enjoy their adopted homes and cities and whether they choose to stay.