Best Practices for Package Acceptance at Apartment Communities
The National Apartment Association has published a white paper outlining best practices for managing the increasing volume of package deliveries to residents. Below is an excerpt from NAA's page where the white paper is free for NAA members. Remember, if you're a PTAA member you're a NAA member.
The number of packages received by multifamily consumers are growing each year, but the growth rate is slowing. RealPage analyzed package data from Sept. 1, 2014, to Aug. 31, 2018: 2015: 25 percent growth over 2014; 2016: 20 percent growth over 2015; 2017: 9 percent growth over 2016.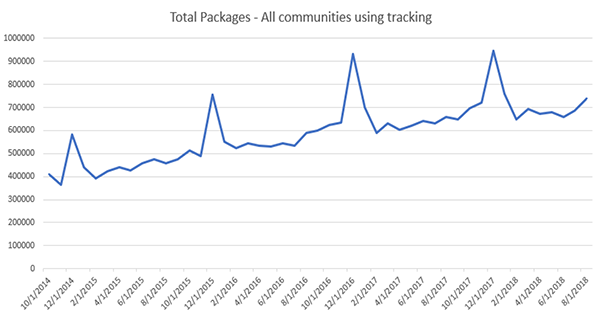 Isolating the peak holiday months each year, November and December, those two months consistently account for almost 20 percent of the annual volume. Package volume during those months is still growing but has slowed each year, with yearly numbers at 31 percent, 26 percent, and 6 percent, respectively, from 2015 to 2017. The decrease in overall percentage growth year over year can be attributed to how properties are better managing their package deliveries, such as by using technology, lockers, and storage. Growth in resident self-service, secure package smart rooms, and package locker delivery systems, in addition to some communities refusing deliveries, is reducing the need for staff to handle packages in their offices.
New rental housing communities must consider providing ample space for both delivery and storage, to ensure that the space can accommodate possible future needs such as smart-lock access and refrigerated storage. New properties should also consider placing trash and recycling bins close to the package room, to facilitate packaging disposal, and ensure appropriate Internet connectivity for delivery-related software.

For established communities, the most utilized package delivery methods are holding packages at the management office, allowing package carriers to deliver items directly to the resident's door, and offering traditional, United States Postal Service (USPS) mailboxes. Many apartment leasing offices adjust the hours they're open to accommodate package pick-up, especially during the holiday season, when package storage areas can't accommodate high-volume delivery days. Resident satisfaction is a top priority for most management companies, so instituting a smooth package processing system, from package acceptance to resident delivery, is essential.

This document is free to NAA members and details best practices for such methods and explores additional solutions to consider. The pros and cons of various package management systems are reported—steps that could save administrative time, protect properties from liability, bring in potential additional revenue, and, above all else, enhance the resident experience.