COVID-19 Sanitization Service For Commercial Buildings
Sponsored content
Corona Virus & COVID-19 Sanitation Services For Commercial Facilities and Office Environments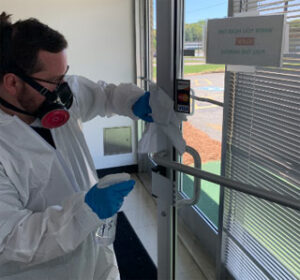 McNeely Pest Control's expertise in disease transfer from wildlife has provided our staff with professional experience in providing sanitization and cleaning of residential and commercial properties for many years.
Now that we are faced with COVID-19, we want to remind and share with you the services that McNeely Pest Control is offering to assist with this current situation. 
ROBUST VIRUS PROTECTION
Our disinfecting and sanitation services treatment is approved by the Environmental Protection Agency (EPA) as an effective treatment method to sanitize infected areas of Coronavirus (COVID-19) and bacterial infections. Disinfecting treatments are a fast and comprehensive solution for homeowners, schools, office buildings, government facilities, and apartments and other industries.
HOW DO THESE TREATMENTS WORK?
We use a broad spectrum, non-selective disinfectant with superior virucidal components for fast sanitation of work surfaces and environments for interiors of business and homes. Our disinfectant is approved by government agencies across the globe, the number one choice for emergency disease prevention and control. Your Coronavirus action plan should include routine treatments.
ARE THESE SANITIZATION SERVICES SAFE FOR THE ENVIRONMENT?
We use a disinfectant that includes properties carefully chosen to break down naturally in all environments. The safety profile, which is first rate, ensures a convenient application for our technicians and is safe for all surfaces.
HOW SOON CAN WE PROVIDE THIS SANITATION SERVICE TO YOU?
Call us today and we can provide you an estimate for service and schedule your treatment. We understand that the Coronavirus happens quickly. McNeely Pest Control strives to meet your needs as quickly as possible.
PREPARATION AND PRECAUTIONS
❖ Remove material that could be damaged by moisture, e.g. paperwork and artwork
❖ Remove any exposed food items from area to be treated
❖ Place food containers and utensils in cabinets and drawers
❖ Cover sensitive electronics with plastic
❖ Sanitize all items that are being covered or removed with a safe product such as an alcohol-based wipe or aerosol spray prior to our service
❖ Allow clear access and remove any trip and fall hazards for our technicians
❖ Fish tanks, aquariums and or ponds – please ask for additional guidance for these
COMMERCIAL BUSINESSES WE SERVICE
Arenas and Stadiums – Hotels – Property Management – Restaurants – Healthcare –
Food and Beverage processing – Schools and Daycare Facilities – Office Buildings