Emergency Rental Assistance: A Tale of Two Cities and a State
In late 2020 and early 2021 the US Congress appropriated tens of billions of dollars in rental assistance funds in response to the COVID-19 pandemic, but it has only been in the last few months that the local and state governments that received those funds have been getting them distributed to landlords. Here in the Piedmont Triad area two cities, Winston-Salem and Greensboro, and two counties, Forsyth and Guilford, received direct allocations of rental assistance funds. The rest of the counties that comprise the Triad region, ten of them in total, are part of the state's HOPE rental assistance program. So, how are each of the programs doing in getting rental assistance out to landlords?
Below is a quick comparison of numbers we were able to get from each of the cities, Forsyth County and the state. If we get some numbers from Guilford County we'll update this with them at that point.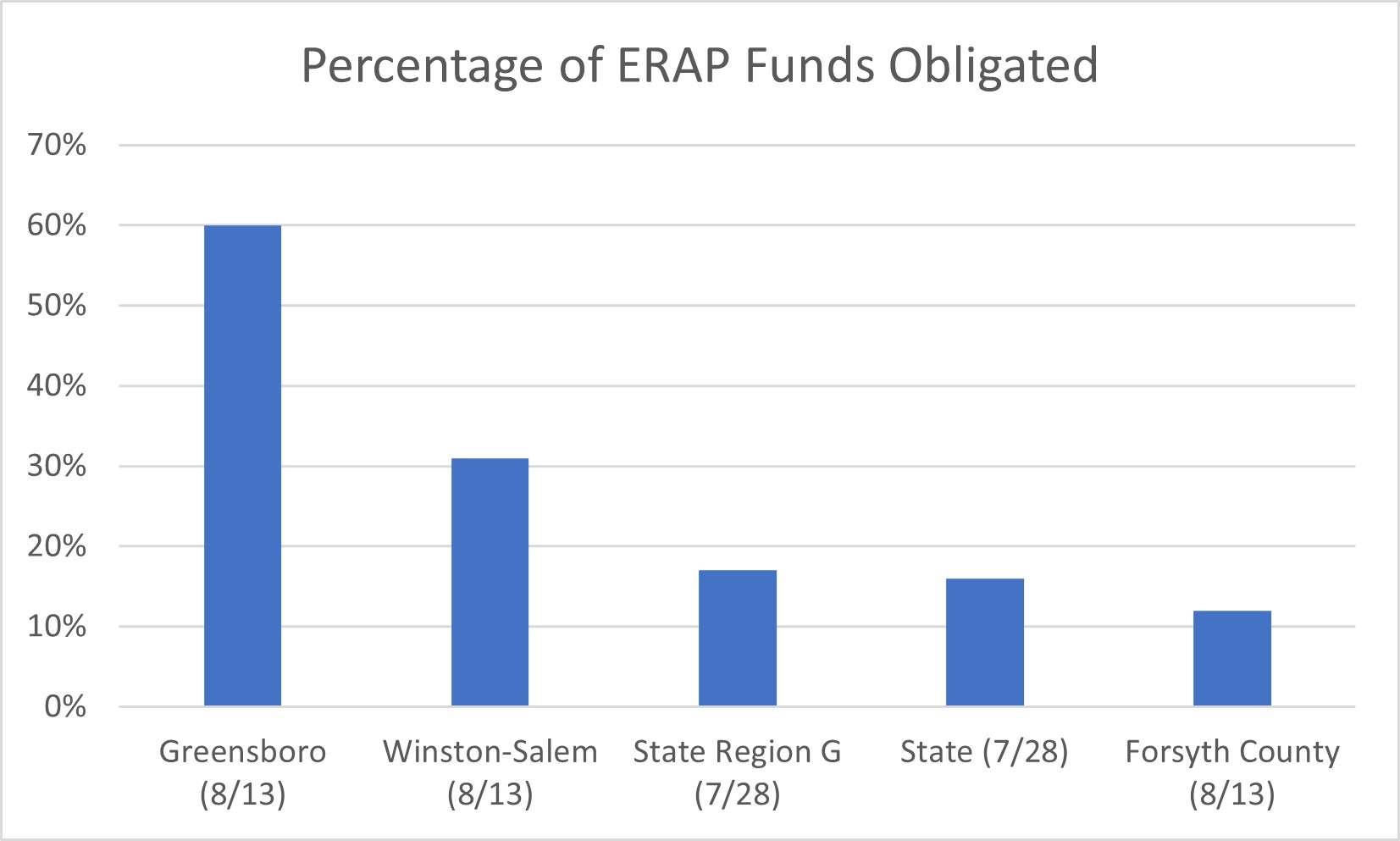 What you will notice is that Greensboro is significantly ahead of the other municipalities and the state in distributing its rental assistance allocation. While we don't know yet exactly why that is, one difference we noted between Greensboro and the other programs is that Greensboro has fewer requirements of landlords to participate. For instance, the other programs require landlords to agree to not pursue eviction for 60-90 days after the expiration of the agreement terms. It wouldn't be surprising to find out that Greensboro has had more landlords participating in their program as a result of their program's less stringent structure, but we aren't sure if we will be able to confirm that with reporting data from the programs - in other words we aren't sure if they are collecting data on how many landlords have refused to participate when residents apply.
You'll also notice that both cities are well ahead of the state in getting funds out. Certainly part of that is due to the cities getting their programs opened weeks/months before the state, but part of that could also be attributed to program structure. The state has recently changed some of its criteria, making it easier to apply, so we might see the state begin to catch up in the future.
When looking at these numbers it is important to note that Congress allocated two different "buckets" of money which are called ERA1 and ERA2. ERA1 funds must be distributed by September 30, 2022 and ERA2 funds must be distributed by September 30, 2025. Also, for the HOPE Program, the counties of the Triad are in Region G; we've provided numbers for the overall state and for Region G.
HOPE Program (Statewide) as of July 28, 2021
ERA 1 funds received: $546,596,104
ERA 2 funds recieved: $556,611,100
Total funds received: $1,103,207,204
Funds obligated to landlords/tenants: $181,334,634
% of ERA 1 funds obligated: 33%
% of total funds (ERA1 & 2) obligated: 16%
HOPE Program (Region G) as of July 28, 2021
ERA funds received: $107,644,512
Funds obligated to landlords/tenants: $17,980,317
% of total funds (ERA1 & 2) obligated: 17%
Greensboro Program as of August 13, 2021
ERA 1 funds received: $8,949,177
ERA 2 funds recieved: $7,081,066
Total funds received: $16,030,243
Funds obligated to landlords/tenants: $9,678,551
% of ERA 1 funds obligated: 108%
% of total funds (ERA1 & 2) obligated: 60%
Winston-Salem Program as of August 13, 2021
ERA 1 funds received: $7,478,359
ERA 2 funds recieved: $5,917,275
Total funds received: $13,395,634
Funds obligated to landlords/tenants: $4,165,515
% of ERA 1 funds obligated: 56%
% of total funds (ERA1 & 2) obligated: 31%
Forsyth County Program as of August 13, 2021
ERA 1 funds received: $4,052,179
ERA 2 funds recieved: $3,206,300
Total funds received: $7,258,479
Funds obligated to landlords/tenants: $848,259
% of ERA 1 funds obligated: 21%
% of total funds (ERA1 & 2) obligated: 12%