Home Sales Slump, Rental Market Rises
Home sales have slowed in recent months and according to this article in the Wall Street Journal, the culprits contributing to the slowdown in the for-sale market are rising prices, rising mortgage rates and the Trump administration's tax bill that reduced incentives to own homes. That could be good news for the apartment industry:
Yet other analysts argue that all the gloom hanging over housing is good news for owners of apartments, like AvalonBay Communities, which is up 7.4% over the past six months, and Equity Residential, which has added 5.7% in that time. Rental-home companies have also gained, with American Homes 4 Rent climbing 3.8%.
"Having pressure on home sales is a positive for the rental side of the industry," David Singelyn, American Homes chief executive, told investors recently. "It should all fare very, very well for pricing power going forward."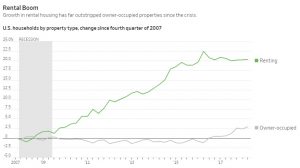 Source: Wall Street Journal
In fact, we could also see room for rents to rise in the near future:
Not only is the added cost likely to keep some renting longer, $135 is about 8% of the average monthly rent collected by American Homes, suggesting that there is room for these companies to raise rents and remain less expensive than comparable homes for sale, he said.
To that end, Freddie Mac said last week that about 78% of Americans view renting as more affordable than owning, a rise of 11 percentage points since the mortgage company released similar survey data six months ago. Freddie also said the proportion of respondents who said they have no plans to buy homes also rose.