Jon's Reading List - Week of June 18, 2021
Links to interesting stuff I'm reading this week.
Apartment Industry
Zillow Rentals webinar "Navigating the current rental market in the pandemic and after vaccination" (June 17, 2021)
PDF of presentation slide deck available here.
NAA's Inflation Tracker (NAA, June, 2021)
While most economists and analysts expect rising inflation to be a temporary phenomenon, concerns continue to mount from businesses and consumers alike. With that in mind, the National Apartment Association (NAA) is launching an inflation tracker to keep its members informed and help them cut through noisy data—a result of uncharted territory created by the pandemic.  
Rising Materials Costs Slows Multifamily Pipeline (GlobeSt.com, June 15, 2021)
The rising cost of building materials will continue to slow development over the next year, resulting in what JLL analysts are calling a "rare period of favorable supply-side dynamics." 
A new report on the multifamily sector from the global CRE firm notes that while new deliveries continue to tick up, challenging occupancy and rent growth in certain cities, a shortage of both skilled labor and materials is allowing markets to absorb supply at a more palatable rate.
Rethinking Multifamily Risk Post-Covid (GlobeSt.com, June 14, 2021)
From new regulatory limits to increased cyber and ransom attacks, and the worsening effects of climate change, the risk landscape is far different than just a few short years ago, but panelists have a few ideas to adapt to the changing risk environment and have found ways to mitigate the growing financial exposure the industry is facing.

We Can Improve Rental Assistance Distribution. Here's How (NAA, June, 2021)
The U.S. Department of Treasury (USDT), charged with administering ERAP funds, has provided guidance and technical assistance to state and local grantees. While programmatic challenges remain a concern for many of the programs receiving ERAP dollars across the country, two state programs exemplify efficiency and effectiveness: Virginia and Colorado. These programs have clear eligibility and application processes that apply statewide and allow a seamless process for housing providers to work on behalf of their residents en masse to obtain relief. 
Apartment Jobs Report, May 2021 (NAA, June 11, 2021)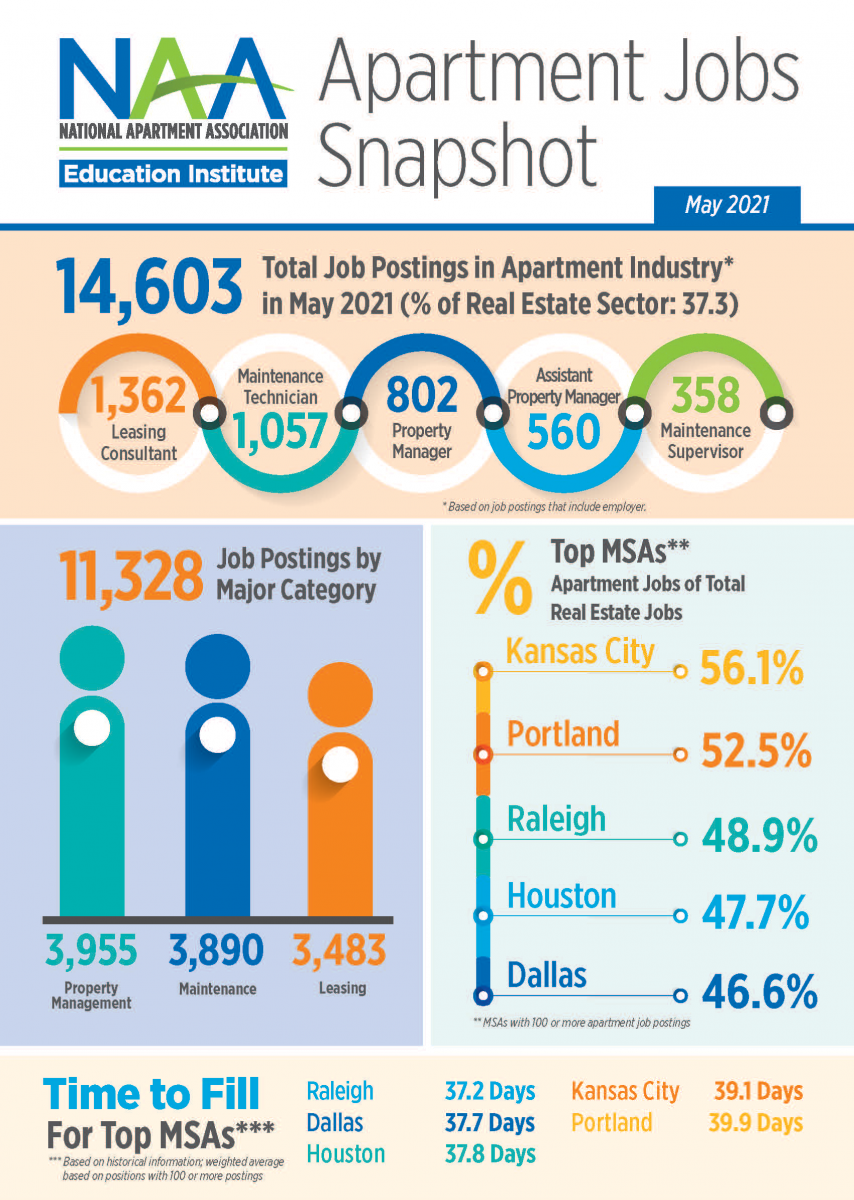 Housing
Single-Family Rent Growth Marks Highest Increase for 15 Years (GlobeSt.com, June 17, 2021)
Single family rent growth was up 5.3%, the highest increase in 15 years, according to the latest CoreLogic Single-Family Rent Index.
Strong rent growth this year will continue as supply shortages in the for-sale housing market and ongoing demographic pressure from aging millennials persist, the company's analysts said...
Higher-priced rentals rose 6.1% in April 2021, up from a gain of 2.2% in April 2020 while low-end properties increased 3.9% year over year in April 2021, up from 3.2% in April 2020.
U.S. Housing Market Needs 5.5 Million More Units, Says New Report (Wall Street Journal, June 16, 2021)
Construction of new housing in the past 20 years fell 5.5 million units short of long-term historical levels, according to a new National Association of Realtors report, which is calling for a "once-in-a-generation" policy response.
U.S. builders added 1.225 million new housing units, on average, each year from 2001 to 2020, according to the report, which was prepared for NAR by Rosen Consulting Group LLC. That figure is down from an annual average of 1.5 million new units from 1968 to 2000.
The 5.5 million-unit deficit includes about two million single-family homes, 1.1 million buildings with two to four units and 2.4 million buildings of at least five units, the report says.
AirBnB says it plans to prevent landlords from profiting off pandemic evictions (Washington Post, June 15, 2021)
Airbnb is implementing a new policy to prevent landlords from exploiting its service as a federal moratorium on evictions expires this month.
Beginning Tuesday, the company will prohibit landlords from listing properties where they evicted a tenant for failure to pay rent. Airbnb says the policy will be in effect at least until the end of the year to ensure that landlords aren't forcing out renters to profit off short-term rentals during a public health crisis.
Homeowners Turn to Sale-Leasebacks After Pandemic Hit Finances (Wall Street Journal, June 14, 2021)