Mid-Month Rent Payment Tracker Shows Numbers Down Slightly
NMHC's Rent Payment Tracker for August 13, 2020 shows that rent payment rates are down a bit from last month, but continue to be stronger than might have been expected a few months ago. From the report:
"The National Multifamily Housing Council (NMHC)'s Rent Payment Tracker found 86.9 percent of apartment households made a full or partial rent payment by August 13 in its survey of 11.4 million units of professionally managed apartment units across the country.
This is a 2.0-percentage point, or 222,543 -household decrease from the share who paid rent through August 13, 2019 and compares to 87.6 percent that had paid by July 13, 2020. These data encompass a wide variety of market-rate rental properties across the United States, which can vary by size, type and average rental price...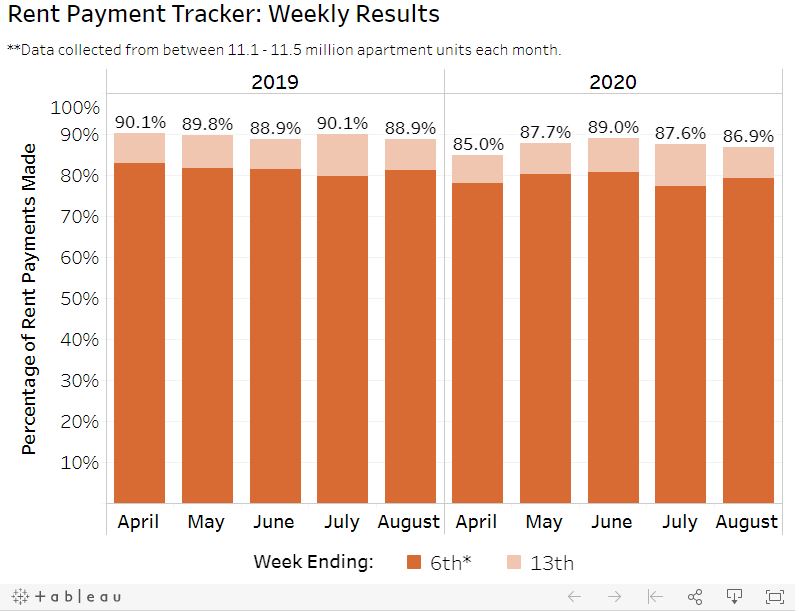 While NMHC's Rent Payment Tracker continues to show that many residents have continued to meet their monthly housing obligations, that is due in large part to the relief enacted under the CARES Act. With that support now having expired more than two weeks ago, households across the country are grappling with even greater financial distress. We strongly urge Congressional leaders and administration officials to extend critical unemployment benefits and create a rental assistance fund so that America's tens of millions of apartment residents can remain safely and securely housed."