Piedmont Triad Apartment Market Remains Hot – Where is it Hottest?
Real Data's October survey results show that the apartment market remains very strong in the Piedmont Triad. Their market summary says it best:
The Triad apartment market is tightening with an average vacancy rate at just 4.0%. Over the last year demand has been strong with 2,348 units absorbed, easily offsetting the 1,595 units added to the supply over the same time period.
The development pipeline includes 2,814 units under construction and another 2,141 units proposed…
The region has posted strong rent growth of 3.8% over the past twelve months. The average rental rate is now $876 per month, as compared to $832 just twelve months ago. One bedroom units average $769, two bedrooms rent for an average of $869 and three bedrooms rent at $1,093 on average.
The report also indicates that the average vacancy rate should hold close to 4.0% for the next year and rents will continue to grow at a yearly rate of 3.5-4.5%.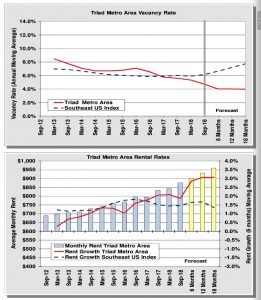 Source: AptIndex.com
So which submarkets are the hottest in the Triad?
Occupancy – Guilford Northeast (97.5%)
Average Rent – Guilford Central ($1,091)
Average Rent per SF – Forsyth Central ($1.172)
Units Under Construction – Forsyth Central (573)
To get a full copy of the Real Data October, 2018 report go to aptindex.com.