Rental Housing Supply is Historically Tight - What That Means for Affordable Housing
Date posted
October 13, 2021
Over the past several years I've participated in more meetings than I can count about the lack of available affordable housing in our communities. During those meetings I try to point out one simple truth and that is this: The affordable housing shortage is part of an overall housing shortage, and what that means is that until we begin to address the systemic housing challenges we face at all income levels it will be impossible to effectively address the affordable housing shortage. Put more simply, the affordable housing crisis is part of a housing crisis.
The general public has become aware of the housing crunch in the single family home sector thanks to numerous stories in the press about bidding wars for every home that goes on the market, skyrocketing prices, etc. On the other hand, most people have no idea what's been going on in the rental housing world and are often surprised to hear that the available supply of rental housing is at historic lows throughout the country. Just how tight the rental market has become is made clear in this article on GlobeSt.com - here's an excerpt:
Vacancy registered below 45 in 140 of the 150 largest US metros RealPage tracks in September. Orange County led the way at 1.12%, followed by Providence, RI (also at 1.12%); Riverside, Calif. (1.37%); San Diego (1.53%); Miami (1.75%); Virginia Beach (1.76%); Fort Lauderdale (1.94%); Sacramento (1.96%); Tampa (1.98%); and Detroit (2.04%).
The lack of availability also has "nothing to do" with construction completions, according to RealPage: new completions over the last year hit a three-decade high of 362,087 units, a wave that would historically be considered a major risk factor for investors but which has wholly failed to meet demand in the current cycle.
Net absorption hit 610,715 for the year ending in September, smashing prior records by more than half.
"We were bullish on apartments heading into 2021, but the magnitude of the demand boom is far beyond even the most optimistic forecast," said RealPage director of forecasting and analysis Carl Whitaker. "And the absorption numbers could have been even bigger if not for the historic lack of availability."
It would be tempting to blame this historic supply shortage on the pandemic, but it really has its genesis in the Great Recession over 12 years ago. We saw a massive decline in new home construction at the time, a decline from which we have never fully recovered. While apartment construction has been strong over the last ten years, it hasn't kept up with an increasing level of demand that was exacerbated by the anemic SFH construction pace (see charts below) over the same time period.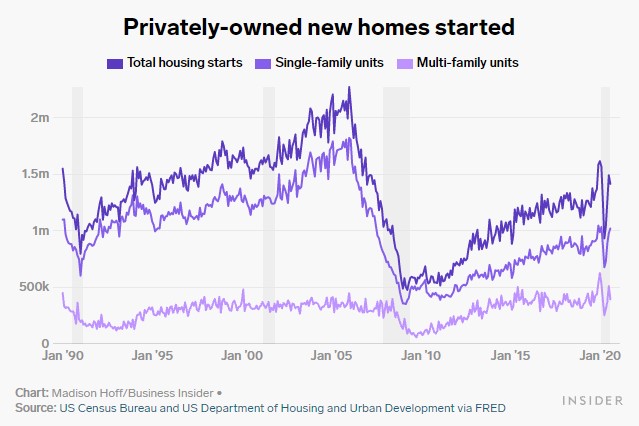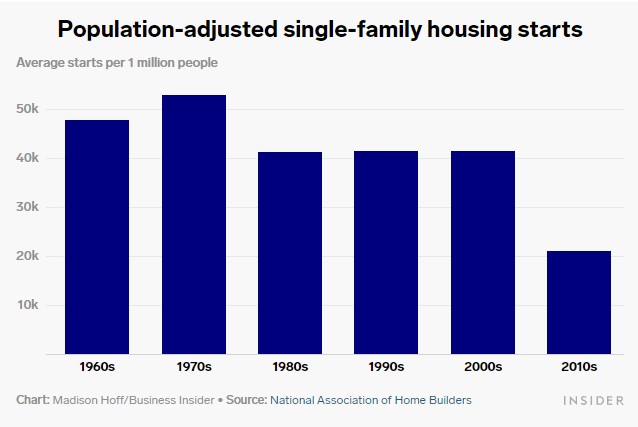 When I bring this up in all those affordable housing meetings I'm often met with feedback like, "Well, this doesn't have anything to do with affordable housing because that's housing that has to be subsidized anyway. We need to build more dedicated affordable housing and not worry about the rest of the market - it will take care of itself." My reply to them boils down to these points:
This overall housing supply issue directly affects affordable housing because the less overall housing there is, the more people get pushed out of market rate housing and into affordable housing. That increases demand at a higher rate than new supply can be built.
There's a limited construction capacity, so the more demand for market rate housing construction means less available for affordable housing construction. 
Inevitably, some of the naturally occurring affordable housing (NOAH) in a community will be converted to market-rate housing because of the increased demand. Why rent out a house for $700 when you can do it for $1,500? And if you're in a position to pay $1,500 and there's not a lot available in that price range you might move into an older home with fewer amenities than you normally would. The reduce in NOAH units also increases demand on purpose-built affordable housing.
It's taken a long time for our country to dig this housing hole that it's in, and we're not going to build our way out of it overnight, but we need to get serious about it. Yes we need more affordable housing, but we also need more workforce housing, and yes, upper income housing. That will require comprehensive and smart policy making. Cities around the country, including here in the Piedmont Triad, are considering all kinds of measures, some positive and some negative from a housing provider's standpoint. It is critical that members of the apartment industry pay close attention to these policies and advocate on behalf of the indsustry at the local, state, and national level. PTAA, the Apartment Association of North Carolina (AANC), and the National Apartment Association (NAA) are all focusing intently on these issues and so I ask that in the coming months and years please pay attention to their work and when the time comes, support them in their advocacy efforts.