US Apartment Rents and Occupancy Up in Third Quarter
Across the U.S. rent and occupancy rates rose in the third quarter, although not at the same rate they were rising a few years back. From the Wall Street Journal:
Apartment rents rose 2.9% in the third quarter from a year earlier, up from 2.5% annual rent growth in the second quarter, according to real estate analytics firm RealPage Inc. A strong economy with better wage growth helped boost demand for apartments. So did a weak home-sales market, as tight supply may have prompted more renters to put off buying.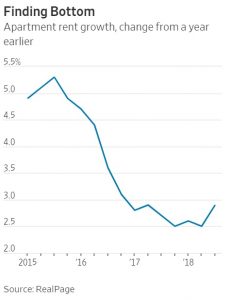 Source: Wall Street Journal
"There definitely doesn't seem to be the pressure to buy that was there a little bit earlier," said Greg Willett, chief economist at RealPage.
The rental market has still slowed significantly from a few years ago, when rents grew by 5.2% in the third quarter of 2015. But Mr. Willet said that "an upward blip rather than a downward blip" shows at least that the slowdown isn't accelerating.
The share of occupied apartments during the third quarter rose to 95.8% in the third quarter from 95.4% in the second quarter, according to RealPage.
Interestingly, one factor that might be contributing to the stronger than anticipated rental market is the tax cut passed last year:
Barbara Byrne Denham, a senior economist at Reis, attributed stabilization in the rental market to the tax bill that passed last December. That bill almost doubled the standard deduction for individual and joint filers, making it less advantageous for most homeowners to itemize and take the mortgage interest deduction.