Lowe's Pro Supply: one-stop shop
Date posted
December 1, 2022

SPONSORED CONTENT from Lowe's Pro Supply's website.
WHO WE ARE
Lowe's Pro Supply is your one-stop shop for maintenance and renovation supplies for the multifamily housing and hospitality industries. With free, same-day delivery in 29 national markets through Lowe's Pro Supply warehouses, we offer an extensive inventory of MRO products in job-lot quantities.

We are also proud to offer an extended supply of more than 40,000 products, including paint, lumber, drywall and tools, through the Lowe's network of stores. Lowe's Pro Supply is fully stocked with everything you need to get the job done.

You promised your residents beautiful, functional spaces for them to live, work, and play. Our job is to make sure you make good on those promises. Get More of What You Need. Faster.
At Your Service
Our dedicated account representatives visit your location in person, getting to understand your unique renovation and maintenance needs. Free renovation planning service, in-unit delivery with ProjectPak, and custom fabirciation services are just a few ways we go the extra mile for our clients. Also, no cross shipments or multiple invoices.
Extensive Assortment
Our inventory selection is unmatched. Whether you need a single item or a thousand, we've got you covered from lighting and fixtures to appliances and plumbing. With fully stocked MRO warehouses in 29 national markets and more supplies available from over 1,700 Lowe's stores. We have job-lot quantities of hard to find items, meaning you don't have to wait for "the shipment to get in" to get your job done.
Fast and Easy Ordering
Order in person with your dedicated representative, on the phone, or online. No matter where you are or what you're doing, ordering with Lowe's Pro Supply is lightning-fast and ultra-easy.
PURCHASE CARD
The Lowe's Pro Supply Purchase Card‡ links to your Lowe's Pro Supply account for added shopping flexibility. Shop your way at 1,700+ Lowe's stores or online at Lowes.com.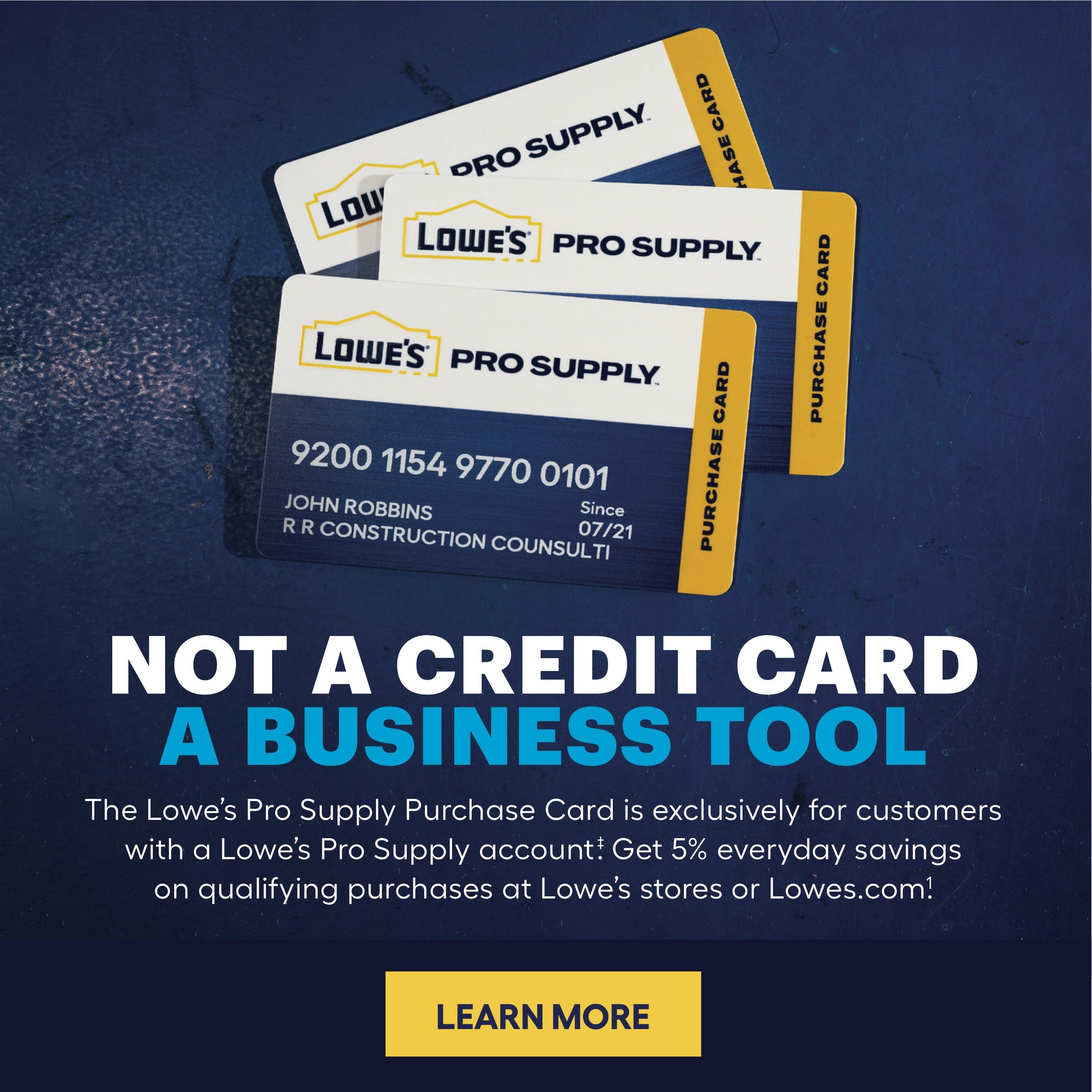 Lowe's Pro Supply is a 2022 Platinum Annual Sponsor of PTAA.