Spring 2021 Apartment Market Pulse
NAA's Spring, 2021 Apartment Market Pulse is subtitled "Optimism Springs Eternal" and that's an apt description of what the data shows. Below are some excerpts and you can read the full article here.
According to RealPage, effective rental rates moved from $1,411 in Q4 2020 to $1,421 during Q1 2021. Lower-cost markets with limited apartment stock continued to thrive and outperform major markets. As reported by REIS, San Bernardino, Chattanooga, Memphis, Sacramento and Lexington recorded the highest effective rent growth levels during the first quarter.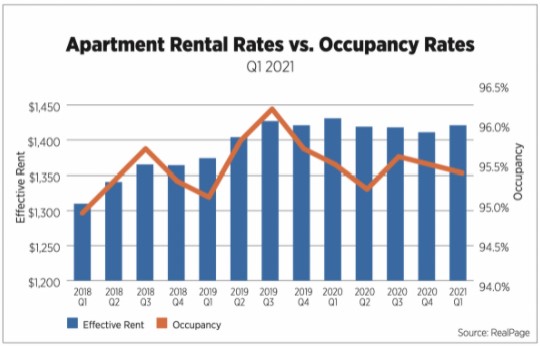 Similar to Q4 2020, apartment demand kicked off 2021 with repeated strong performance. RealPage reported that 353,453 annualized units were absorbed, far outpacing the 315,789 units that came online during Q1 2021.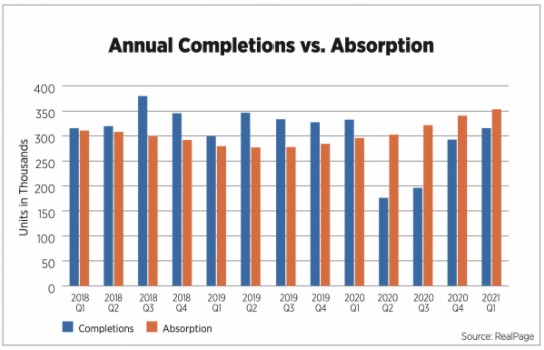 As job growth becomes even stronger, an increase in household formations can be expected as younger cohorts leave family residences and workers become more mobile again. The continued run-up in house prices, low supply and increasing mortgage rates will temper the for-sale market, resulting in healthy demand for apartments, particularly in suburban locations in the South and West. While it appears that gateway cities have hit bottom, supply and demand imbalances will prolong their recoveries. And until rental assistance dollars are fully distributed, risks remain for small property owners and their residents.